Our story begins in a faraway paradise
The word 'paradise' is often used to describe a land of mystique.
Scroll to Continue
The word 'paradise' is often used to describe a land of mystique.
The Hereford MappaMundi, the largest existing medieval map, pinpointed Paradise as a circular island off the coast of India-and it's not hard to understand why. Fondly known to the world as the Pearl of the Indian Ocean, Sri Lanka has a long history of majestic kingdoms, beaming wildlife and luscious nature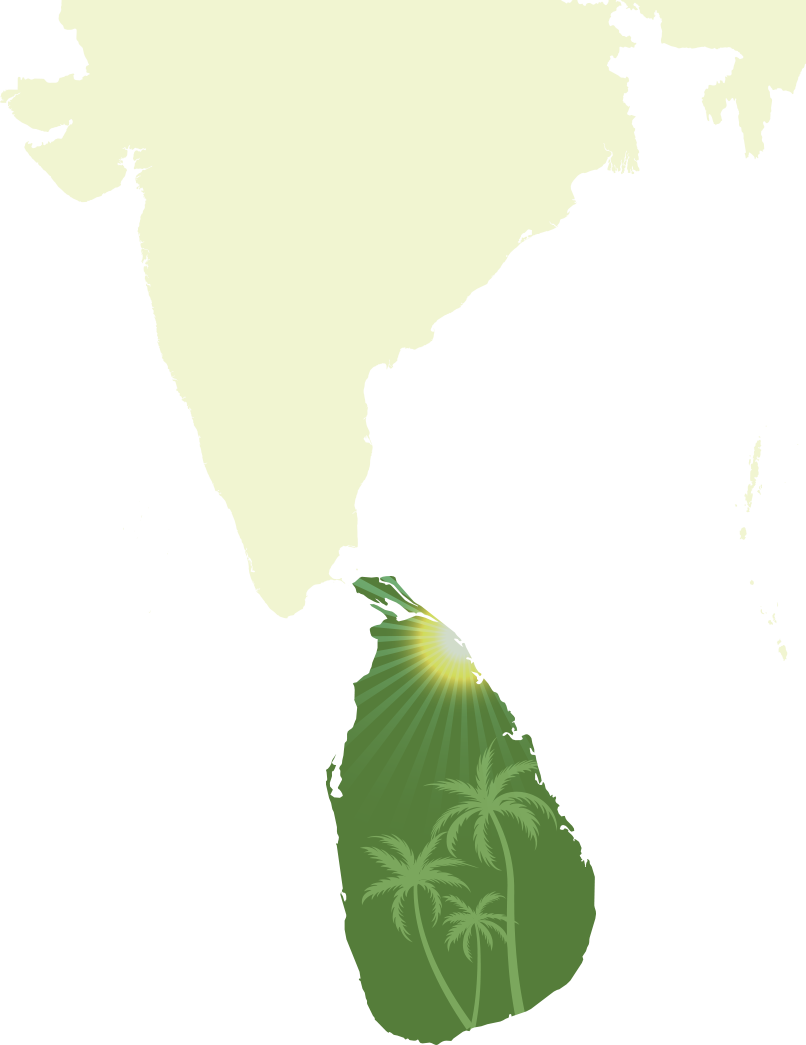 Did you know
Coconuts are a staple diet for all Sri Lankans as coconut-based food remains a necessity for all three of their meals. This tradition applies to all Sri Lankans, regardless of location and status.
A life entwined with nature
Home to a prosperous soil that gives life to a myriad of flora and fauna, Sri Lanka has been on the global map for centuries for its fragrant spices and aromatic tea-but most of all, it's known as a country that gives birth to the "Tree of Life". To date, tree roots and herbs are used in our traditional healing methods (Ayurveda) and every tree is respected for their ability to nurture life
Did you know
The name "Cocofera" is derived from "Cocos Nucifera" which is the scientific term for the coconut tree.
The Tree of Life became our way of life
Early records this luscious Coconuttree goes back to the "Mahawamsa" where evidence of Sri Lanka's first coconut plantation was found in A.D 589. French author Hugo Victor is believed to be referring to Sri Lanka when he writes: 'Paradise is a spot in the Orient productive of all kinds of woods and trees: it contains the Tree of Life; there is neither cold nor heat but perpetual equable temperature.'The Great Chronicle of Mahawamsa statesthat around 589 AD, King Parakramabahu II cultivated coconut in Bentota and Kalutara proving that royal patronage was given to coconut cultivation in the country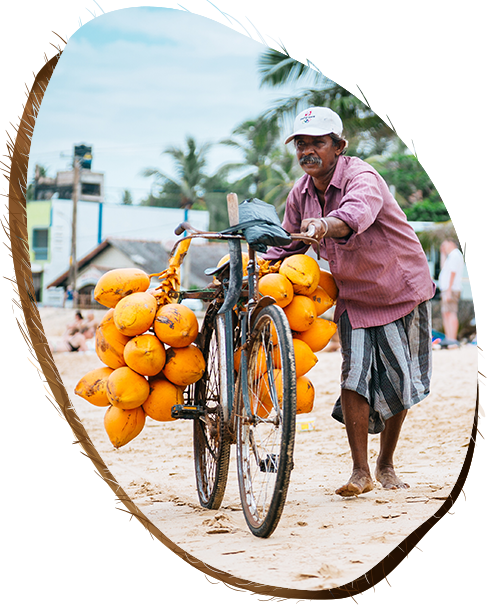 This Tree of Life may fascinate you.
Before the tree comes into bearing its leaves are plaited and used as partitions or roofs of houses. When the plant reaches the flowering stage,it can be tapped for toddy, and toddy in its turn can be made yield Coconut Syrup (a sweetener similar to maplesyrup).
When quite young the nut is full of a delicious water that can quench heat on a tropical day. The maturenuts constitute an important element in the local cuisine. It's indispensable in curries, and the milk is a favourite flavouring essence. Thedried kernel, known in the produce markets as copra, is pressed and yields an abundance of nutritious oil. Even the hard shell of the nut is locally used as fuel and for manufacture into spoons and other kitchen implements. The fibrous outer husk supplies coir… and the list of benefits goes on and on.
For tropical islanders who nourishes themselves, earn and live through this tree, it is beyond a god's gift. It's a way of life
The nourishment of a Superfood.
Coconuts are enriched with a good dose of fibre, vitamins and minerals like, iron, manganese, magnesium, and zinc along with saturated fat. The benefits of cooking with coconut oil are aplenty, mostly due to its MCT content, a healthy form of dietary fat that gets rapidly broken down and absorbed to provide multiple health benefits from weight management to being a quick source of energy and cognitive support.
Whether it's coconut oil, water, milk, cream, flour, spreads or even coconut chips-every edible component of coconuts is a guaranteed way of flooding your body with essential nutrients and electrolytes, thus boosting your metabolism and overall well-being.